SHARING AND TRANSMITTING
Le goût d'être soi
12 years after acquiring Château de Rouillac and organizing its rebirth, Laurent Cisneros has launched a modern distribution business that sticks to its origins and values.
"My roots constantly bring me back to my family homelands : Charente, Bordeaux and Spain. I love spending time in those places, working, discovering new products, meeting new craftsmen and sharing it all with you." Laurent Cisneros
His daughter Mélanie was already by his side as a business developer and will now accompany him in this new adventure. His wife Sophie assists him in selecting products and manages the new boutique.
Maison Cisneros and its online version are designed as a concept store where they exclusively share their style, values and tastes through a range of wines, a sharp selection of gourmet products and selected objects.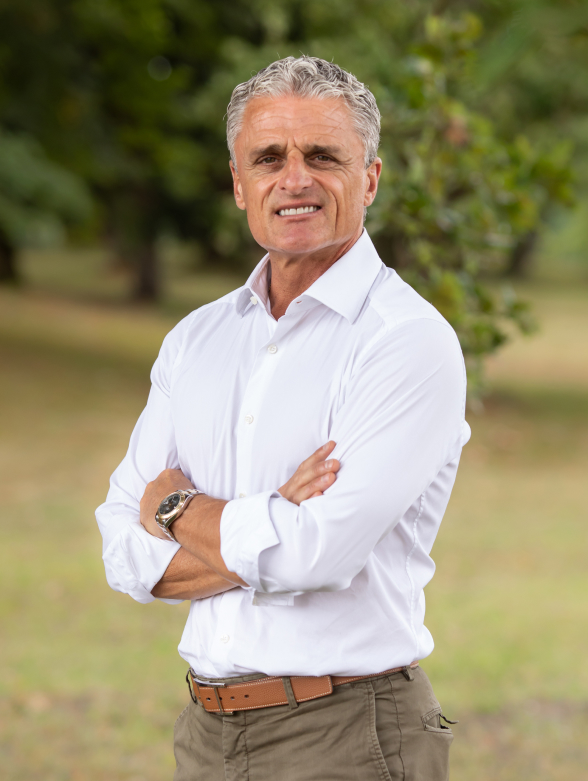 "Knowing where you come from, who you are and fully assuming it, is the Cisneros signature and the Maison's promise."
Laurent Cisneros
Laurent Cisneros, his Spanish grand-mother and great-aunt and his mother - 1976
A family story
"I love the idea of connecting to my elders in what I do for a living." Laurent Cisneros
His winemaking soul and conquering heart come from Spain. His great-grandfather grew vines in San Martín de Valdeiglesias, in the Madrid region. Born in Bordeaux, he grew up under the mildness of the Charente. From his Spanish father and his Picardy mother, he inherited courage, a sense of commitment and a constant positive energy.
As a young man, he embraced a career as a high-level sportsman in soccer before putting his combativeness serving his father's craft business, which he never ceased to prosper before selling it in 2010. It is at this time that he finally chose the vineyard by sealing his destiny and that of his family at the Château de Rouillac, which he made into a gem of the Pessac-Léognan appellation in barely 10 years
THE CISNEROS DNA
Values, style and action
- The taste of being oneself
- The strength of committing and sharing
- The bond with nature and horses
"With maturity, I have become wiser and I have improved like my wines, hopefully. I have integrated the codes of the wine world and those of Bordeaux while remaining faithful to my roots and to who I am. I need to build connections and share emotions to move forward and I fully assume it in my way of living and working with my family and team." Laurent Cisneros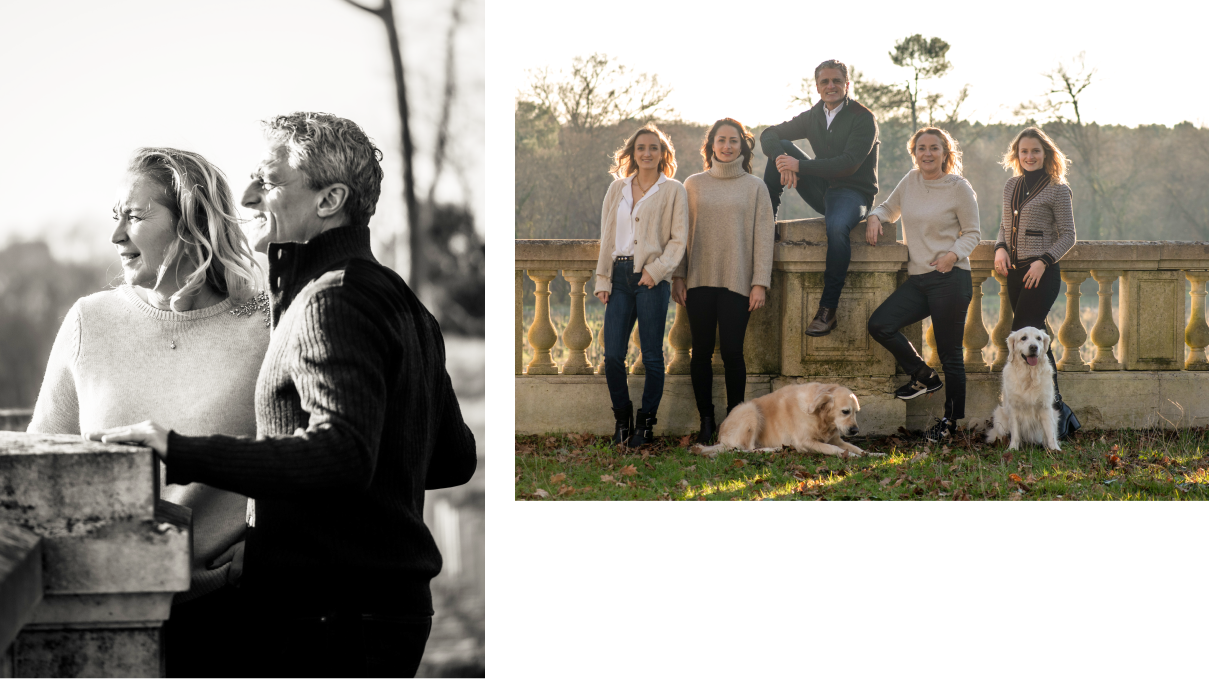 ENVIRONMENTAL COMMITMENT AND OUTSTANDING TERROIR
Nature at heart
In 2010, Château de Rouillac embarked on changes to embrace cultivation methods that protect the soil and fauna, and notably won High Environmental Value certification. To take this approach further, the property has become fully eco-responsible by taking into account the complete footprint of its operations and production: no more weed killers or chemical fertilizers, the decision to grow grass as a cover crop all over the vineyard, using draught horses accommodated in the chateau's stables to plow the majority of the vineyard, planting over 500 meters of hedging to protect and develop the estate's biodiversity, the introduction of fifteen beehives that produce the delicious Rouillac honey, etc.
"We preserve our terroir, reduce our ecological footprint and refine the organoleptic qualities of our wines." Laurent Cisneros
This philosophy now guides our choices and we focus our attention and product range on beauty, refinement and sustainability.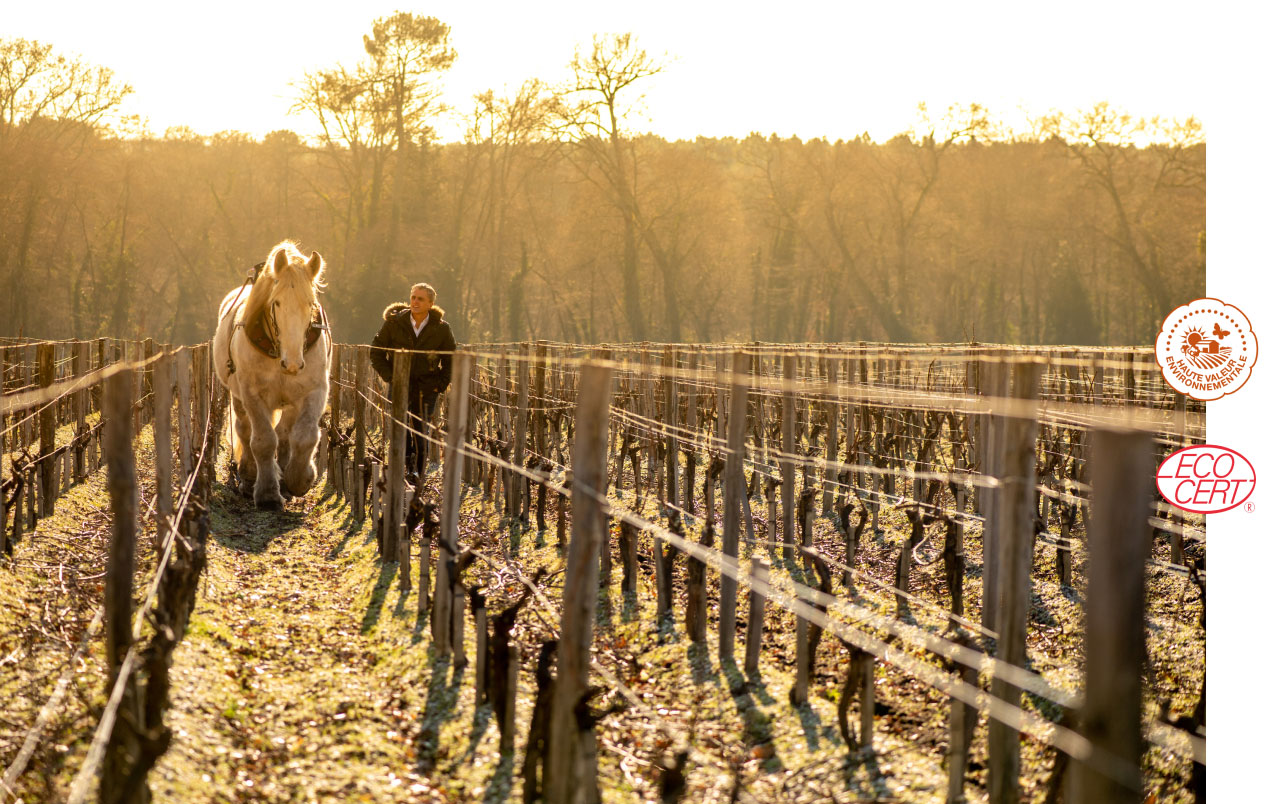 INSPIRING AND PIONEERING
The Boutique
The estate is home to a boutique which has recently been refurbished by the architect Charlotte Allard, as an opportunity for Laurent Cisneros and his team to share the universe of the Maison and invite you to discover the carefully selected products (cellar, delicatessen, accessories).
Boutique at the Château de Rouillac, open Monday to Friday from 9am to 6pm and Saturday from 10am to 6pm.